Are you regularly commuting up and down I-35 to care for an aging family member? In that case, a move to assisted living somewhere outside of the high traffic of the Austin area may benefit you.
Kyle, TX sits half an hour south of Austin and an hour north of San Antonio. Fifteen minutes outside San Marcos, assisted living and memory care is available to your family at The Philomena.
One of the most important aspects of moving a loved one into senior care is deciding what your family member will or won't need once they get there.
The Moving to Assisted Living Checklist
Making a move to assisted living is the opportunity to start fresh. While moving is stressful, having the proper planning process can make for a seamless transition. Let's start at the beginning.
Downsizing for Your New Living Space
Once you and your loved one decide assisted living is the correct choice, it's time to get the ball rolling and take care of the most significant project: downsizing.
Assisted living or memory care is the opportunity for seniors and their families to simplify their lives. While there's something to be said for the accomplishment of owning a home, homes can also create a lot of hassles as people age. Downsizing can relieve so much stress from peoples' lives because it's an exercise in letting go:
Fewer responsibilities
Fewer expenses
Freedom from clutter
Less hassle
With the right plan, downsizing can be a time for family bonding and reminiscing. Keep some of these tips in mind when downsizing:
Plan months ahead if possible. Make every weekend a project in a different room.
Start somewhere small, like a closet or kitchen cabinets, and work your way up to larger rooms.
Make four piles: Keep, sell, donate, and trash. "Maybe" categories will hold up the process.
Give away heirloom items early.
It's also possible to make downsizing a fun process. Employ the grandkids to help post your items on the internet or create flyers for a garage sale. Families can use downsizing as a time to bond over the cherished memories associated with the home. Take lots of pictures and create a scrapbook or poster of the experience.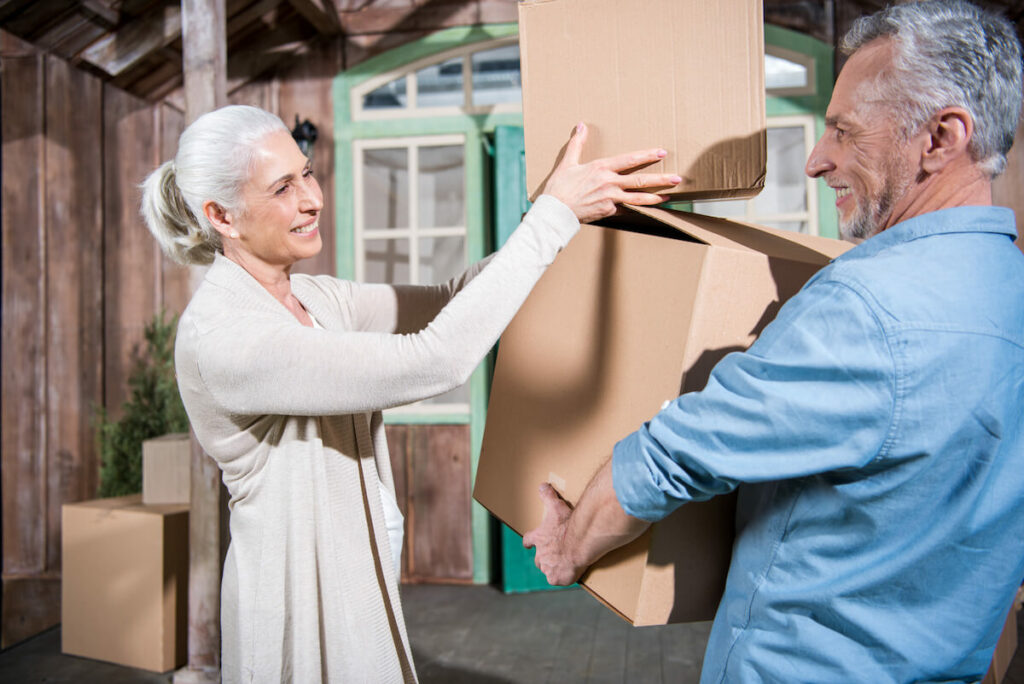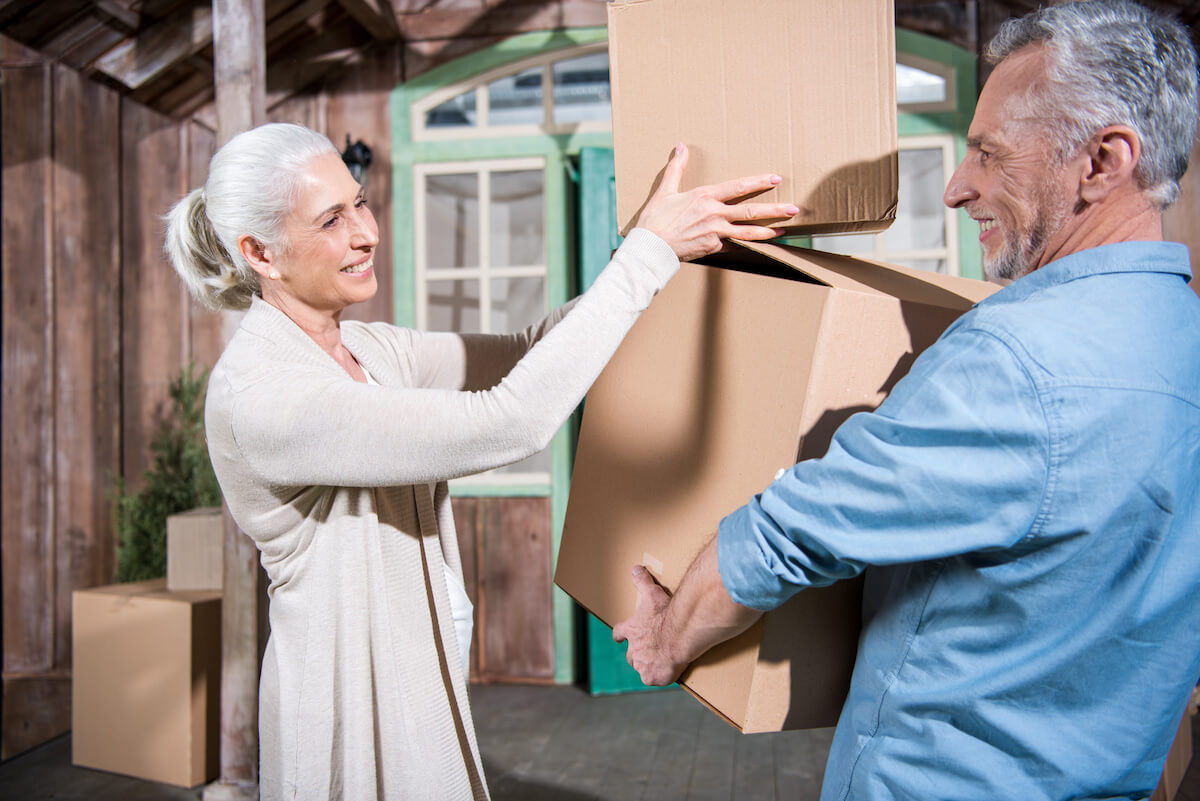 The Assisted Living Packing List
Once you feel empowered by what a fantastic job you did downsizing, it's time to tape up the final boxes for assisted living. Some things you'll want on your first night in your new home include:
Two sets of bed sheets
Two sets of bath towels
A week's worth of clothes
Clothes hamper
Trash can
Chair
Bedding and pillows
Personal hygiene items
Bring the things that make you the most comfortable, and that includes your pet. Our pet-friendly community can't wait to meet you and your furry friend.
Do You Bring Your Own Furniture To Assisted Living?
Yes. Assisted living and memory care communities like The Philomena in Kyle, TX encourage you to decorate your new home however you'd like. Some assisted living facilities or nursing homes may not allow personal furnishings, but it's your choice in our community.
Our senior living apartments accommodate many different lifestyles and give seniors multiple floor plan options.
Seniors and their families are free to design the space, so feel free to bring a:
Comfortable mattress
Favorite chair or small couch
Small kitchen table or desk
Bookshelf
Nightstand
What Will I Not Need in Assisted Living?
San Marcos, TX area seniors exhale a sigh of relief at The Philomena. The community includes many on-site amenities so that you won't need to bring much besides a few personal items in your new apartment.
Our modern amenities make life so easy for seniors to have fun. Assisted living provides upscale living services:
Three meals and snacks every day served in the dining room
Activities room for working on hobbies and games
Comfortable common areas for socializing and family visitation
Manicured outdoor areas
Fitness room
Salon and barbershop
Theater room
Seniors and their families won't need to worry about bringing many items. While downsizing, you may think about eliminating stuff like:
Collections: movies, memorabilia, antiques, etc.
Bulky fitness equipment
Rugs that may become a tripping hazard
Kitchen appliances
Duplicate items: a second television, nightstands, utensils, teapots, etc.
Valuable heirlooms and expensive jewelry not worn regularly
Of course, if your loved one has a specific hobby, feel free to devote a corner or work desk dedicated to what they love to do. Residents are free to use the common areas and activity room in our senior living community to work on projects.
A small bookshelf will be great for storing photo albums, memories from home, and knick knacks that tell your story. Our senior living apartments are your new home, and you should be comfortable. Bring your culture and traditions to share in our assisted living community.
Is Kyle, TX a good place for seniors to live?
Kyle has a great small-town vibe seniors love. As the Pie Capital of Texas, residents of The Philomena love taking community-provided transportation to grab a slice at places like The Sweet Shoppe and The Texas Pie Company.
One thing to pack for your loved one is a good sun hat because our seniors love to get out and explore in the fresh air. Our assisted living community has fun, from practicing our casting in the yard to picnics at Steeplechase Park. We might even check out some action unique to the area at the County Line Polo Club.
The Ascension Seton Hays Hospital is less than a five-minute drive from The Philomena for additional health services and primary care visits. Kyle provides the perfect backdrop for seniors to enjoy their time in assisted living.
San Marcos, TX and South Austin Seniors are Encouraged to Visit Us
Contact The Philomena for a tour of the upscale senior living options in Kyle, TX. See all the creative ways to decorate an assisted living apartment in person or virtually.