Home is where we feel at peace. It's where we spend time with family and friends and where we long to be when we're away. As we get older, downsizing begins to make more sense, but it doesn't have to mean losing that sense of home or leaving your life behind. Making the move to an assisted living or memory care apartment can be a welcome change by removing the burden of costly home repairs and making life easier. An added bonus is that you get to design the perfect new living space!
Your New Home, In Style
What's most important in finding your new home is that it feels just as secure and welcoming as your old one. At The Philomena, seniors enjoy extensive services, easy-to-navigate rooms, and stylish apartments with various floor plan options. We offer a modern and upscale environment where you can create a living space that's truly you.
Choosing the Right Space
When considering your options, choose the floor plan that fits your lifestyle, health care needs, and budget. We have options for assisted living and memory care residents. Our expert associates can help you determine the best option. Each apartment comes unfurnished, giving you the ultimate flexibility to customize your space as you like it.
Assisted Living floor plans
| | |
| --- | --- |
| 270 sq. feet | Stylish studio apartment |
| 379 sq. feet | Deluxe studio |
| 488 sq. feet | Elegant one-bedroom apartment |
Memory Care floor plans
| | |
| --- | --- |
| 264/273 sq. feet | Modern private bedroom apartment |
| 306 sq. feet | Private bedroom with a nook |
| 336 sq. feet | Sophisticated, semi-private bedroom |
Making Your Space Feel Like Home
No matter the circumstances, leaving a long-time home and downsizing can be an emotionally overwhelming process. Make the move more manageable by decorating and organizing the space to be comfortable and easy to navigate. Furniture and household items should be easily accessible and accommodate mobility issues.
When determining what to bring, it's important to incorporate sentimental as well as necessary items. That family photo you love, the heirloom you cherish, and the quilt that's been passed down for generations will make your home feel cozy and warm.
Though it may seem stressful to tackle, decluttering and relocating can be an exciting time. Donating items you no longer need or want and removing the burdens of housekeeping and maintenance ease the stress of making a big life change. Designing a space that's just the right fit is like a sigh of relief! When making your plans, consider the following:
Room layout:
Think about the furniture needed for the size of the space you choose.
Place furniture for optimal mobility.
Decide which electronics to bring (TV, computer, etc.).
Create designated hobby and workspace areas.
Divide living and sleeping areas to make the space feel larger.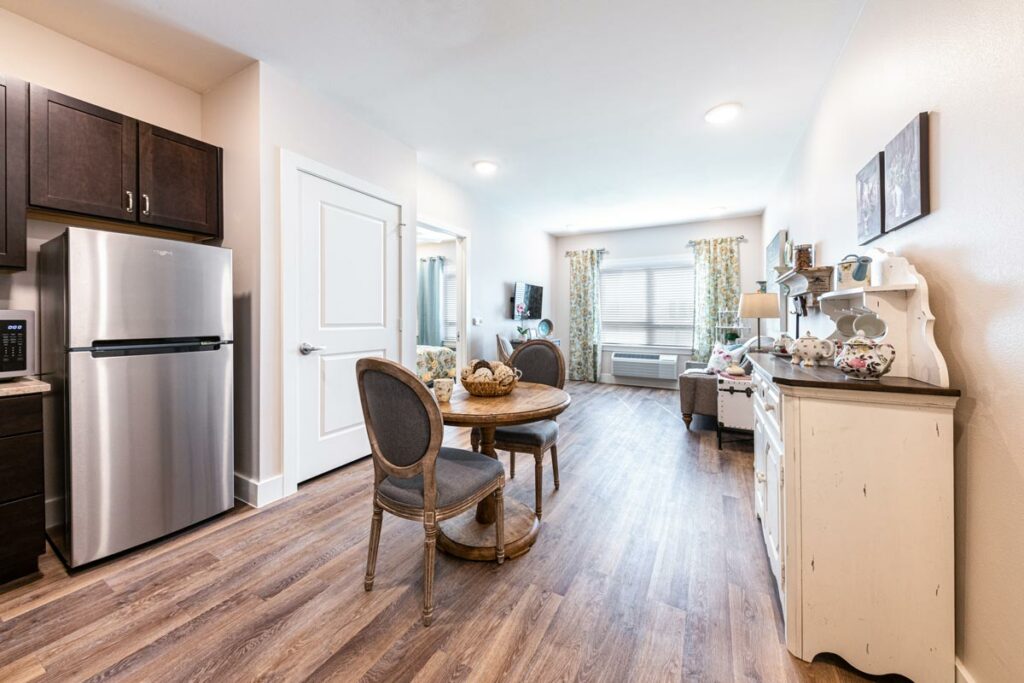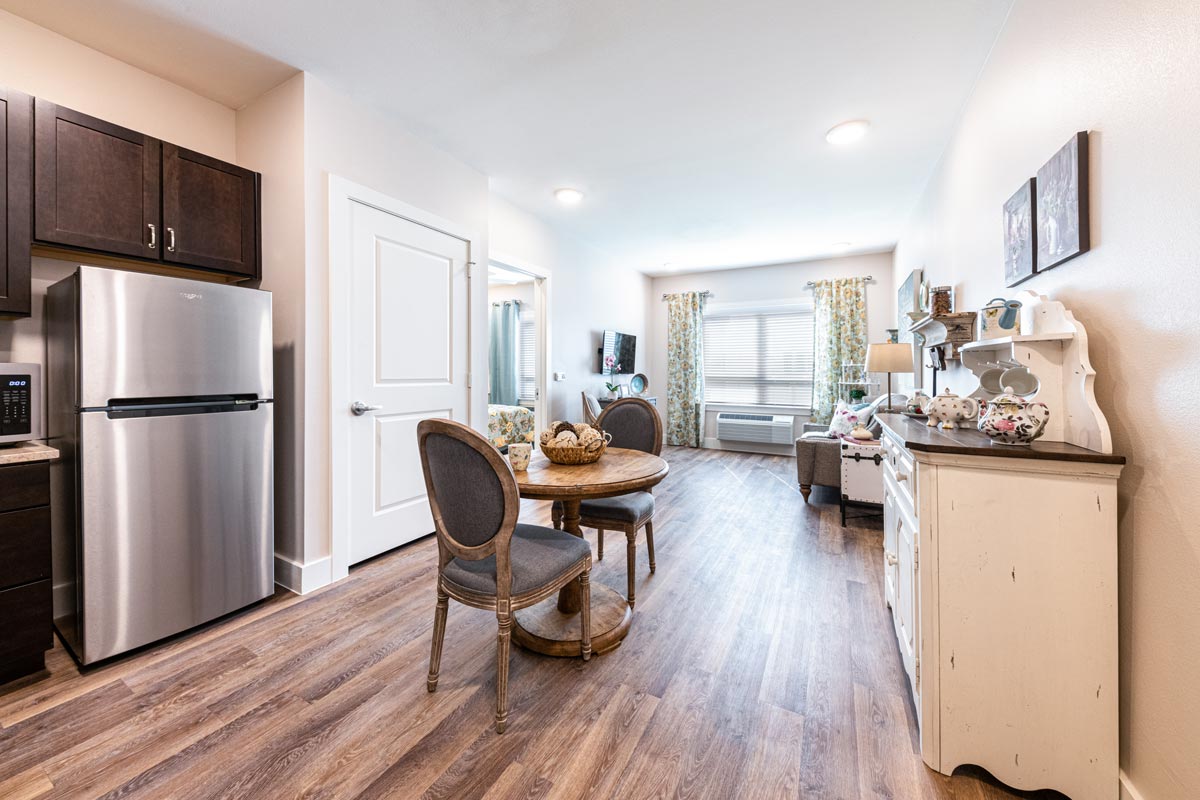 Décor:
Bring plenty of photos of family and friends.
Utilize decorating tips for small spaces like using neutral colors in living spaces, keeping colors cohesive, and adding colorful accent pieces.
Use mirrors and artwork to create separation and make the space more engaging.
Add details like throw pillows, area rugs, and comfy throws for the sofa.
Add some greenery with low-maintenance houseplants.
What is life like at The Philomena?
Our community feels like home without the stress! It's truly the retirement lifestyle you've earned in a prime location. Kyle, TX is located between Austin and San Antonio, and you'll never run out of things to see and do.
In addition to excellent care, you'll want a community that has the right amenities and services. Do you like to get outdoors? Do you have a pet? Do you enjoy movies? We have you covered.
Our amenities and hospitality services include:
Outdoor courtyards with gardening and mini-golf areas
Activities and game room
Movie theater
Fitness center
Spacious common areas to relax or visit with family and friends
Beauty salon and barbershop to keep you looking fresh
Pet-friendly community, so don't forget your small dog or cat!
Weekly housekeeping service, including laundry and personal linens
Daily, authentic Southern cooking provided by a trained chef and culinary team
Scheduled transportation for groceries, errands, and more
 "The Philomena welcomed my mother-in-law in a time of emergency. The staff are so caring and all have been very open with us. The Memory Care staff have done so much to help her adjust. We are truly fortunate to have found this community for her to live in." – Google review from Sandra T.
Are you ready to find your future home?
Contact us! We'd love to help you find the right space to make your own. Our experienced team is here to help guide you through the process. Check out our Facebook page to learn more about resident life at The Philomena.